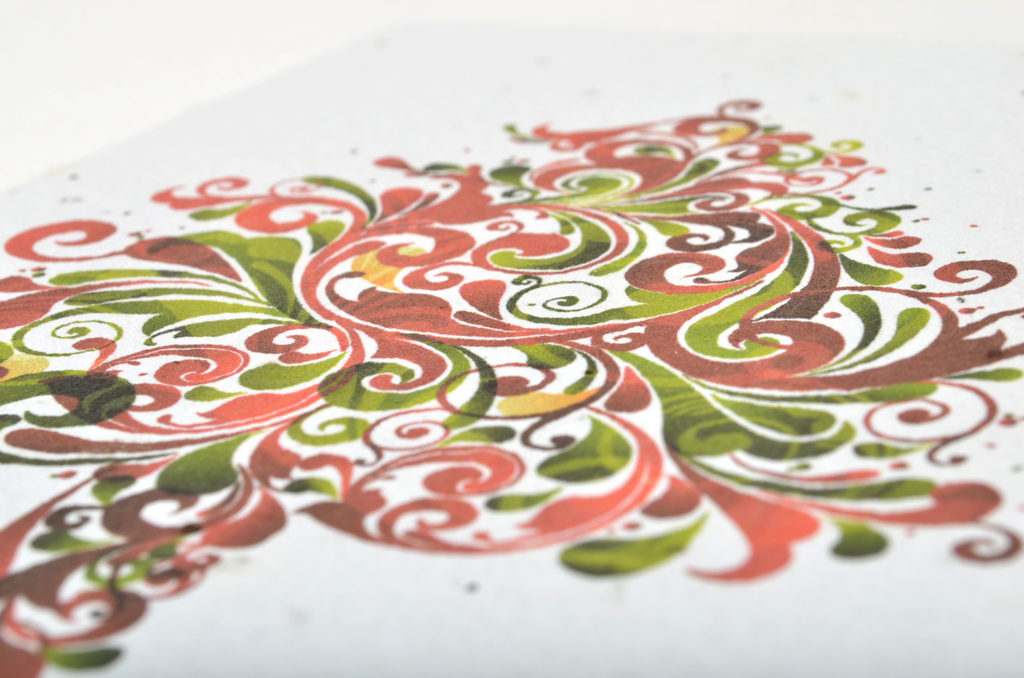 Printing Options
We strongly recommend against using digital or offset printing for seed paper. Digital printers emit heat that can compromise the seeds' growth potential and damage your printer. Even more damaging is the pressure from offset printing, which can crush the seeds within the seed paper sheets, rendering them nonviable and unable to germinate. If your primary goal is to convey an eco-friendly message rather than growing plants, you may consider offset printing on our smoother and flatter ECOnomy paper. However, it's important to note that using an offset press will destroy the seeds, so making claims about their ability to grow when offset printing is not advisable.
Bloomin has developed an exclusive printing system that ensures top-quality four-color process printing while maintaining high germination rates. To ensure the optimal appearance and timely, trouble-free delivery of your promotion, we recommend entrusting the printing of seed paper to us. With 22 years of expertise in printing on seed paper, we own and operate specialized printers to accomplish the task accurately and punctually. However, if you have wide-format or commercial-grade inkjet printing equipment, you can also achieve excellent results when printing on seed paper. Keep in mind that there is a learning curve involved, and you may encounter some wastage, so please allocate an additional 10-20% on your bulk seed paper order to account for self-printing.
---
Inkjet
Premium | Signature
We use water-soluble earth-friendly inks to achieve the highest germination rates, superior print quality, and environmentally-friendly practices. Our unique inkjet technology employs a 4-color CMYK process that delicately sprays onto the seed paper. Unlike offset printing, which subjects all seeds to roller pressure, our method maintains excellent germination rates while providing exceptional print quality.
This innovative technology also allows us to print on our thicker and more textured Signature, Premium, and even Original seed papers. If you have your own inkjet equipment, you can certainly use them independently. However, you may soon realize the additional time and costs involved in manually feeding each sheet.
---
Offset or Digital
ECOnomy
For our commercial printing friends, we have formulated a truly unique seed paper option that can be run digitally or offset. We make this sheet in a smoother, larger size that will feed and run on most digital or offset feeders. Because offset printing crushes the seeds, and digital equipment cooks the seeds, we cannot guarantee the germination rates of our printed "ECOnomy" seed papers.
They are indeed packed with visible wildflowers for a truly natural and eco-friendly statement, but they will not grow like our other papers do. We encourage you to be equally transparent to your own customers about their inability to grow, particularly once they'd been printed offset or digitally.
We continue to see this unique and affordable seed paper to be very useful in communicating eco-friendly messages of all kinds.
---
Letterpress
Original | Premium
Many of our customers have developed a deep appreciation for the timeless appearance and tactile quality of letterpress printing. In this process, each sheet undergoes a meticulous "hand stamping" procedure, with each sheet individually stamped to achieve a distinctive high-texture look and feel.
Letterpress printing, which traces its origins back to the 15th century, is the oldest known printing technique. It involves the utilization of a custom metal printing plate to "press" or deboss a single ink color into the seed paper, resulting in a luxurious and visually striking texture.